The Schreyer Honors College is widely recognized as one of the best and most comprehensive undergraduate honors programs in the United States and has been around for over 80 years. The mission of the Schreyer Honors College is to promote academic excellence with integrity in all fields of study, build a global perspective, and create opportunities for leadership and civic engagement in the student body and across the Penn State community.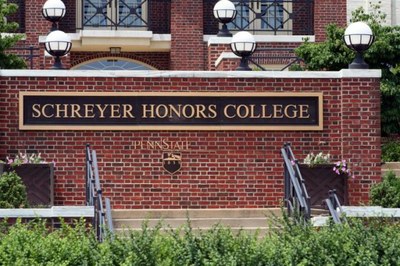 The School of Labor and Employment Relations helps to support this mission by offering a challenging undergraduate program, opportunities to get involved in student organizations, participate in study abroad, and connect with leading human resource management and employment relations faculty as well as our supportive and involved alumni working around the world. We welcome you to learn more about the opportunities available to Schreyer scholars jointly enrolled in the Labor and Human Resources (LHR) major and in Schreyer Honors College.
Schreyer scholars majoring in LHR work closely with the faculty through honors option courses, independent studies, and thesis opportunities. As a student you will complete a major piece of research called a thesis, giving you an opportunity to be a scholar who contributes to knowledge. This research experience, often limited to those already in graduate school, can enable you to present your research locally or even nationally, and, possibly, to have your thesis published. It is also an excellent opportunity to dive deeper into a topic that interests you and that can help further prepare you for your chosen career.
The School of LER views globalization as an important aspect of both human resource management and employment relations. Because it is vital for human resource management and employment relations professionals to have a global perspective, the School supports study abroad at major institutions around the world.
The Schreyer Ambassador Travel Grant Program provides funding for Schreyer scholars pursuing study, research, internship, or service abroad. Each year Schreyer spends over $250,000 supporting scholars in their international pursuits. The School of LER has additional funds that we use to support our students interested in studying abroad and to support their thesis research if needed.
The School of LER offers several honors classes and an honors option is available for most classes to incorporate honors elements into a non-honors course to allow the credits to count toward Schreyer Honors College requirements and give the completed course an honors notation on your transcript. More information about honors classes and honors options can be found in the Schreyer Honors College Handbook. This website also contains information on credit granted for advanced level courses and Honors Independent Study or Research.
All academic theses done through the Schreyer Honors College are retained in the Penn State Library system. Additional recognition is given to Schreyer scholars at graduation where they receive an Honors Medal at a special pre-commencement ceremony. Schreyer Scholars also have an honors notation on both their Penn State diploma and official Penn State transcript.
Schreyer Scholars with declared or intended majors in LHR work with the faculty honors adviser, Cody Stephens, on honors-specific matters like the annual Schreyer Plan and fulfillment of honors credit requirements, and the development of an honors thesis topic. For more general advising questions, Schreyer students can work with the LHR major's undergraduate advisers.
For information on the entrance to the Schreyer Honors College as an incoming first-year student, please visit the Schreyer website.
For continuing Penn State students intending or declared in the LHR major, there are two ways to enter the Schreyer Honors College. For students who start at University Park campus in the College of the Liberal Arts and choose to aspire to the Paterno Fellows Program, fulfillment of those requirements over two, three, or four semesters leads to Paterno Fellow and Schreyer Honors College membership. For other students, including UP Liberal Arts students who did not choose the Paterno Fellows aspirant track, the Schreyer Honors College application for continuing students (entering their second or third year) is available starting on March 1 of each year.
Incoming Freshmen: Direct Admission
Incoming freshmen complete two separate applications: the Penn State undergraduate application and the Schreyer Honors College application. It is best to work on both applications at the same time, submitting the Penn State application first, and the Schreyer Honors College application second.
Paterno Fellows: First-Year Students
The Paterno Fellow Program (PFP) is a special Liberal Arts enrichment program that includes membership in the Schreyer Honors College for qualifying members.
Students aspiring to become Fellows are challenged to perform to their full potential and offered the support they need to achieve their academic goals. Students aspiring to the program have two years to become Fellows and Schreyer scholars by meeting specific requirements that are outlined in the student handbook. Other students choose to become Paterno Fellows after they have been admitted to Schreyer. You can learn more about becoming a Paterno Fellow here.
There is no Paterno Fellows application. Students simply decide to accept the Paterno Fellows challenge. Students register as Paterno Fellows Aspirants during their New Student Orientation (NSO) session. Students will indicate a preferred major at that time. Although they may change their major later, this step assures that students are initially assigned to the most knowledgeable adviser. If Aspirants change their preferred major, they will be reassigned to an adviser in their new area of interest. If they decide to opt out of the program altogether, they simply notify the program assistant. There is no penalty for discontinuing, and nothing will show on the student's record
About two-thirds of Paterno Fellows begin as Aspirants. Liberal Arts students who decide to pursue the Paterno Fellows Program will be in Aspirant status until they satisfy the entrance requirements. The deadline for meeting these requirements is the end of the sophomore year. Therefore, the majority of Aspirants can expect to be Paterno Fellows and Schreyer scholars during their junior and senior years. LHR students are able to enter the Paterno Fellows Program and Schreyer Honors College after their first year if they achieve a 3.5 grade point average.
Financial Aid and Scholarships
All first-year Schreyer scholars receive an Academic Excellence Award of $5,000 per year, renewable for a total of eight semesters. In addition to traditional types of financial assistance, all Schreyer scholars, regardless of when they enter, have access to grants for international travel, thesis research, and summer internship stipends.
Aspirants may be admitted to the Paterno Fellows Program and Schreyer Honors College at one of three points.
After Two Semesters:
Completion of at least four honors courses during the first year at University Park, including the Rhetoric and Civic Life sequence ENGL/CAS 137H/138T, for a minimum of 12 honors credits
Completion of any department requirements
A second semester GPA no lower than 3.4, and a cumulative GPA of 3.5
After Three Semesters
Completion of 5 honors courses for a cumulative total of 15 honors credits, including ENGL/CAS 137H/138T
Completion of any department requirements
A third semester GPA no lower than 3.4, and a cumulative GPA of 3.4
After Four Semesters
Completion of 7 honors courses for a cumulative total of 21 honors credits, including ENGL/CAS 137H/138T
Completion of any department requirements
A fourth semester GPA no lower than a 3.4, and a cumulative GPA of 3.4
Aspirants who have two consecutive semester GPAs below a 3.4, regardless of their cumulative GPA, will not be admitted into the Paterno Fellows Program.
Gateway Admissions
For current Penn State students, another avenue for admission to the Schreyer Honors College is the Gateway application process which takes place during every spring semester. The Gateway is an opportunity for exceptional Penn State students to apply for entrance to the Schreyer Honors College. The Gateway application is typically posted on the Schreyer Honors College website in early March. The LHR faculty review all Gateway applications submitted by LHR majors and then determine who will be nominated for admission to the Schreyer Honors College. Schreyer Honors College notifies students of their decision in early June. Students entering via the Gateway do not receive scholarship money from the Schreyer Honors College.
Current or transfer student applicants to the Gateway must:
Have completed at least one full-time semester of study at the time of application.
Have at least four full-time semesters of study remaining before graduation.
Have a minimum cumulative GPA of 3.70 at the time of application.
Have an application semester GPA of at least 3.50 for rising juniors and 3.70 or higher for rising sophomores
Be enrolled in the LHRBA or LHRBS major at the time of application.
Have the desire, ability, and motivation to conduct research or creative projects leading to the completion of an undergraduate honors thesis.
Have an interest in, and aptitude for leadership, civic engagement, and international experience as an undergraduate.
Application Review Process
The faculty and/or administrators in the School of LER will evaluate your application and make a recommendation for admission. That decision will be communicated to you by the Honors College. The entire application evaluation process is overseen by the Honors College and is based on the following criteria:
Academic achievement since beginning college
Desire, ability, and motivation to conduct research or creative projects leading to the completion of an undergraduate honors thesis
Interest in and aptitude for leadership, civic engagement, and international experiences as an undergraduate
LHR students do not need to complete additional requirements beyond what is required by the Schreyer Honors College. Please see this page for information about Schreyer's academic requirements, dates, and deadlines.
Your thesis is a great opportunity to learn more about an area of study that interests you as you engage in an original research project with the help of your thesis supervisor. For some helpful information about the thesis process, visit this page. You can also find previous theses that have been done in LHR to get an idea of the types of topics and the scope of the projects that have been done.
Important things to remember are that deadlines and formatting are crucial! This page offers a few templates that will help to make your thesis writing and formatting a lot easier.
You should begin talking to your honors adviser no later than during the fall semester of your junior year, assuming you're on a four-year graduation path. Please note that the first important deadline for your thesis occurs in the spring semester a year before you intend to graduate. The thesis proposal deadline is in early April of your junior year, at which time you need to have identified and secured the involvement of your thesis supervisor with whom you have worked to develop your thesis proposal and plan your senior year schedule. After filing your Thesis Proposal with the Schreyer Honors College through the Student Records System (SRS) by the deadline in spring, you will develop your more fully developed thesis proposal with your thesis adviser in the fall semester of your senior year. It is also possible to defend your thesis proposal in the spring of your junior year and work on the thesis during the summer before your senior year. Planning to complete your thesis work ahead of deadlines is never a bad idea.
Your thesis proposal is not reviewed by Schreyer Honors College staff, only your thesis supervisor. Your final thesis needs to be approved both by your thesis supervisor and the LHR honors adviser. If your thesis supervisor and honors adviser are the same person, you must find a second eligible faculty member from your area of honors to read and approve your thesis. Your thesis proposal will contain the following information:
A supervisor
A working title
A clear purpose/objective
Intended outcome
A plan regarding how you intend to earn honors credit
A general outline of the frequency of your meetings with your thesis supervisor
An explanation of the ways in which your thesis will satisfy other requirements
Sources
If needed, to pay or incentivize interview participants, for example, funding for your thesis may be available from both Schreyer Honors College and the School of LER. Talk to your thesis supervisor and Schreyer adviser to learn more.
If you have more than one major, you can choose one of them and write the thesis for honors solely in that major. You can also pick an interdisciplinary topic that would legitimately allow you to earn honors in both majors. Another option involves writing multiple theses to earn honors in more than one of your majors. The first of these options is the most common. You can also pick a non-major area of honors. If you are a second-or third-year Schreyer entrant or admitted through the Liberal Arts Paterno Fellows program, you are expected to write your thesis for honors in your entrance major. Although you do have the right to pursue honors elsewhere, approval is not guaranteed, for example, in a concurrent major for which you were not admitted to the Honors College.
All Schreyer scholars and Paterno Fellows are required to complete an undergraduate honors thesis. The honors thesis is one of the most challenging and rewarding assignments of a student's undergraduate career. This is an opportunity to formulate and complete original research that adds to our understanding of the social and political world.
In the process of pursuing a topic, conducting independent research, formulating, articulating, and crafting a sustained argument, students will build on what they have learned in coursework, gain insights into empirical social science scholarship and methodology, and develop their talents as writers and thinkers. Once the thesis is completed students will have the satisfaction of knowing they have produced a work of scholarship that will be permanently archived in the Penn State Library system.