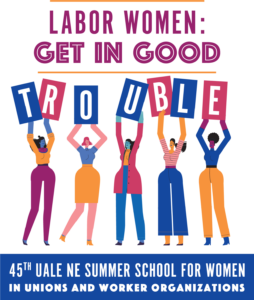 July 25-29, 2022
Registration is now open! Interested parties can register online now.
The Forty-Fifth UALE Northeast Summer School for Union Women is a four-day residential program. The school brings together rank-and-file members, staff, and officers of unions and workers' rights organizations to strengthen their knowledge and understanding of the U.S. labor movement. UALE advocates education as an essential tool to develop new activists and leaders who will grow and transform the labor movement. We use an inclusive definition of "woman" and "female" which includes trans women, genderqueer women, and non-binary people. Spanish language interpretation will be offered throughout the program.
This year's school will be hosted by the LABOR School at Penn State. Participants stay on campus in single dorm rooms with private bathrooms. All rooms are non-smoking. The school will begin Monday, July 25 at 6:00 p.m. (check-in time will be from 2:00 – 5:00 p.m.) and will conclude on Friday, July 29 at 1:00 p.m.
Workshop A Choices:
Health and Safety as an Organizing Tool
Internal Organizing for Member Power
The Legal Right to Resist
Fighting for Racial Justice
Building Power through Bargaining
Using social media as a Communications Tool
Workshop B Choices:
Community Coalitions for Worker Power
Democratic Rights under Attack
Running for Office in your Community
Building an Economy for Workers from Crisis
Women in Nontraditional Jobs
Public Speaking
Fees: $725 union members or $500 worker organization. Residential fee includes tuition, housing, and meals for the four days of summer school. The $375 commuter fee includes tuition and two meals per day.
Scholarships: A limited number of scholarships are available and based on individual need. If you have a need, please complete the form.
For those who require a paper application, please download the form.
For those who require a Spanish paper application, please download the form.
Please send to:
Conferences & Institutes Registration
Penn State Non-Credit Registration Office
Box 410
State College, PA 16804
Phone: 814-867-4973
Email: noncredit@psu.edu (DO NOT EMAIL CREDIT CARD INFORMATION)
Note: Credit card payments received by phone, mail and fax will be processed the following Tuesday when staff are in the office from 8AM-12PM.
Stay up to date by visiting Penn State's website for policies surrounding COVID-19.,