The Labor and Global Workers' Rights program entails a fall semester (late August to late December), a spring semester (January to early May), and a summer semester (mid-May to mid-August). Students earn a total of 30 credits to graduate. Most courses count for 3 credits each and students achieve their credits by taking 4 courses in the fall, 4 courses in the spring, and 2 courses (internship and capstone) in the summer. At least 18 credits must be at the 500 or 800 level, with at least 6 credits at the 500 level.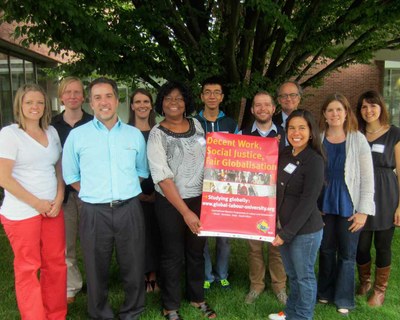 Prescribed Courses: 18 credits
LHR 475H LABOR IN THE GLOBAL ECONOMY (3) This seminar focuses on how the nature of work is changing in the "new economy" and the implications for economic opportunity and inequality in both the United States and South Africa.
HRER 500 TOPICS IN COMPARATIVE INDUSTRIAL RELATIONS (3) Similarities and differences of various aspects in industrial relations assessed within the political, economic, and historical contexts.
LGWR 510 INTERNATIONAL LABOR LAW (3) Seminar exploring international labor law, including its standards, reviewing bodies, procedures, information sources, remedies, and overall strengths and weaknesses.
LGWR 520 GLOBAL WORKERS' RIGHTS (3) Seminar course exploring the issues of work and workers' rights in the global economy.
LGWR 540 RESEARCH METHODS IN LABOR AND GLOBAL WORKERS' RIGHTS (3) This course introduces students to social science research methods and writing skills as they relate to workers and labor policy.
LGWR 597C LABOR AND EMPLOYMENT RELATIONS IN CHINA COMPARATIVE PERSPECTIVE (3)
LGWR 597B GENDER AND WORK IN THE GLOBAL ECONOMY (3)
LGWR 895 INTERNSHIP (3)
LGWR 894 CAPSTONE EXPERIENCE (3)
Elective Courses: 12 credits OPTIONS INCLUDE
HRER 504 SEMINAR IN EMPLOYMENT RELATIONS (3) Provides an in-depth examination of theory, process, and issues of employment relations, including collective bargaining and contract administration.
HRER 516 LABOR MARKET ANALYSIS (3) Neoclassical, institutional and systemic theories of external and internal labor markets and their dynamics.
HRER 536 DIVERSITY IN THE WORKPLACE (3) Explores the historical and contemporary situations of women and minorities in the workplace, including influences in the home, community, the labor movement, as well as the workplace and the larger economy.
LHR 437 WORKPLACE DISPUTE RESOLTION (3) examines dispute resolution procedures in unionized and nonunion workplaces.
LHR 458Y HISTORY OF WORK IN AMERICA (3) A study of selected problems in the history of work in the United States, especially since 1877.