The Future of Work and Unions in the Americas
Free Public Seminar
6:00-8:00 p.m. | 108 Chambers Building
Across the Americas, workers are confronting challenges linked to deindustrialization and widening economic inequalities, including the rise of radical, neo-authoritarian political movements and the decline of traditional forms of political representation, environmental degradation and climate change, and the lack of effective public policies to guarantee care and social protection for all. In response, they are experimenting with new forms of organizing, coalition building, and public policy advocacy.
In this seminar, held in conjunction with the Ninth Annual Center for Global Workers' Rights Symposium, labor leaders and scholar-activists from the United States, Mexico and Brazil will discuss how the labor movement in North and South America is envisioning the future of work in the face of these systemic crises. They will also discuss what organized labor is doing to promote sustainable and equitable development, tax justice to ensure adequate funding for public services, and the creation of a robust care infrastructure for workers and their families.
Speakers include:
Cathy Feingold
International Department Director, AFL-CIO, United States
Jocelio Drummond
Regional Secretary for the Americas, Public Services International (PSI), Brazil
Mary Goldsmith
Professor of Women's Studies, Universidad Autónoma Metropolitana-Xochimilco, Mexico
Moderator:
Manuel Rosaldo
Assistant Professor of Labor and Employment Relations, Penn State
Symposium on LABOR INFORMALITY IN COMPARATIVE PERSPECTIVE: TOWARD A MORE JUST FUTURE FOR WORKERS
The Center for Global Workers' Rights is proud to host another Spring Symposium and hopes it will be useful in guiding the efforts of scholars and practitioners toward addressing labor informality across various contexts. Weaving together empirical data, historical narratives, and contemporary reflections on labor informality in comparative perspective, we will together ask: How can workers build power in the informal sector? How can our work, practice, teaching and organizing increase worker protections, standards, and dignity in the informal sector? Moreover, how do we bring about a more just future for all workers? You can review the program booklet to see all of the talks from the Symposium.
Symposium for Worker Health and Precarious Work in Global Supply Chains
The Center for Global Workers' Rights is proud to host another Spring Symposium and hopes it will be useful in guiding the efforts of scholars and practitioners toward addressing precarious work and worker health concerns in Global Supply Chains. This will be done through a frank discussion on the lessons learned from current initiatives and a review of relevant scholarship and work that needs to be done as we move forward. The symposium will adhere to the Chatham House Rule by which "participants are free to use the information received, but neither the identity nor the affiliation of the speakers, nor that of any other participant, may be revealed." Review the program booklet to view the speakers from the Symposium.
Background Papers and Reports
Anner, Mark. "Stopping the Race to the Bottom: Challenges for Workers' Rights in Supply Chains in Asia."
Bhattacharjee, Anannya, and Ashim Roy. "Bargaining in the global commodity chain: the Asia Floor Wage Alliance."
Brown, Garrett. "Genuine Worker Participation - An Indispensable Key to Effective Global OHS."
Dutta, Madhumita, "The Nokia SEZ Story: Economy of Disappearances."
Pandita, Sanjiv and Fahmi Panimbang, "Global Supply Chains: Struggle within them or against them?"
Rosenbaum, JJ and Daniel Costa, "Temporary foreign workers by the numbers."
Rosenbaum, JJ, "The world watches the US on labor abuse."
Smith, Ted and Chad Raphael, "The Future of Activism for Electronics Workers."
Sznajder, Kristin, et al., "Gynecologic pain related to occupational stress among female factory workers in Tianjin, China."
von Broembsen, Marlese and Shae Godfrey, "Labour Law and Development Viewed from Below."
Bhairavi Desai speaks on Global Workers' Rights
Bhairavi Desai, Executive Director NY Taxi Workers' Alliance, President of the National Taxi Workers Alliance, and AFL-CIO Executive Council Representative spoke at at CGWR event at Penn State on April 20, 2016. Photo: Bhairavi Desai, with CGWR faculty and LGWR students, receiving a CGWR recognition for her work on behalf of workers' rights.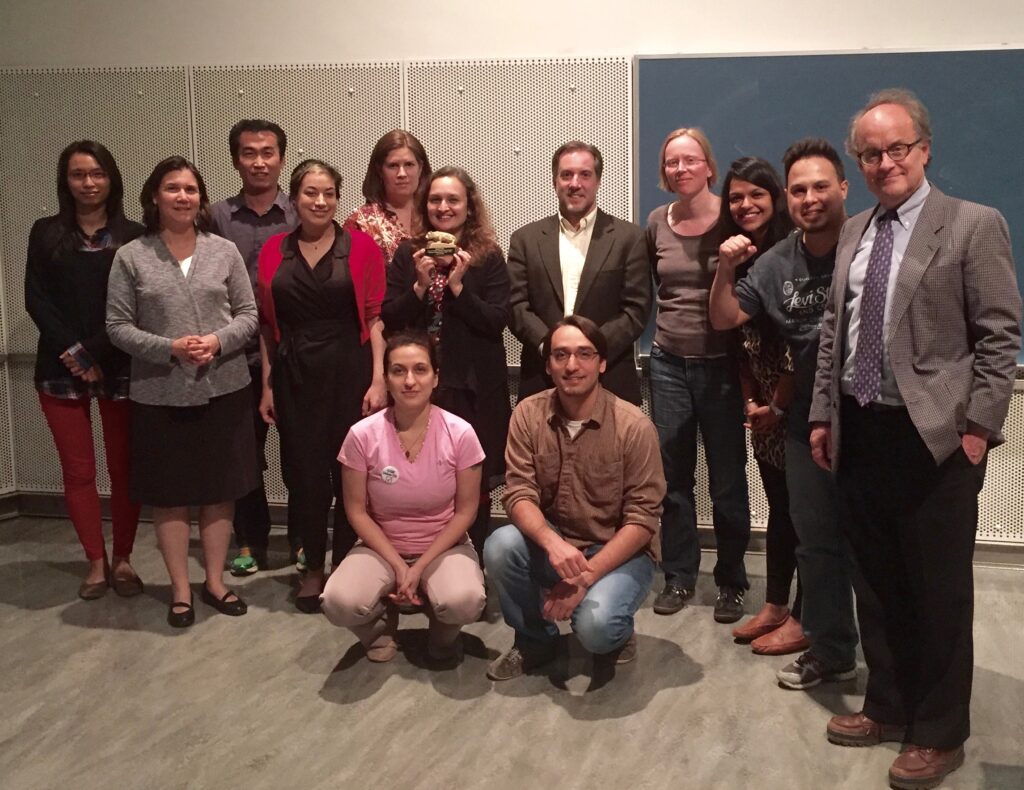 DIGNITY FOR ALL: HOW AND WHY WE PASSED THE MASSACHUSETTS DOMESTIC WORKER BILL OF RIGHTS
Lydia Edwards is a new kind of Labor Leader. As an architect of the Massachusetts Domestic Worker Bill of Rights, she coordinated grassroots efforts to implement the law.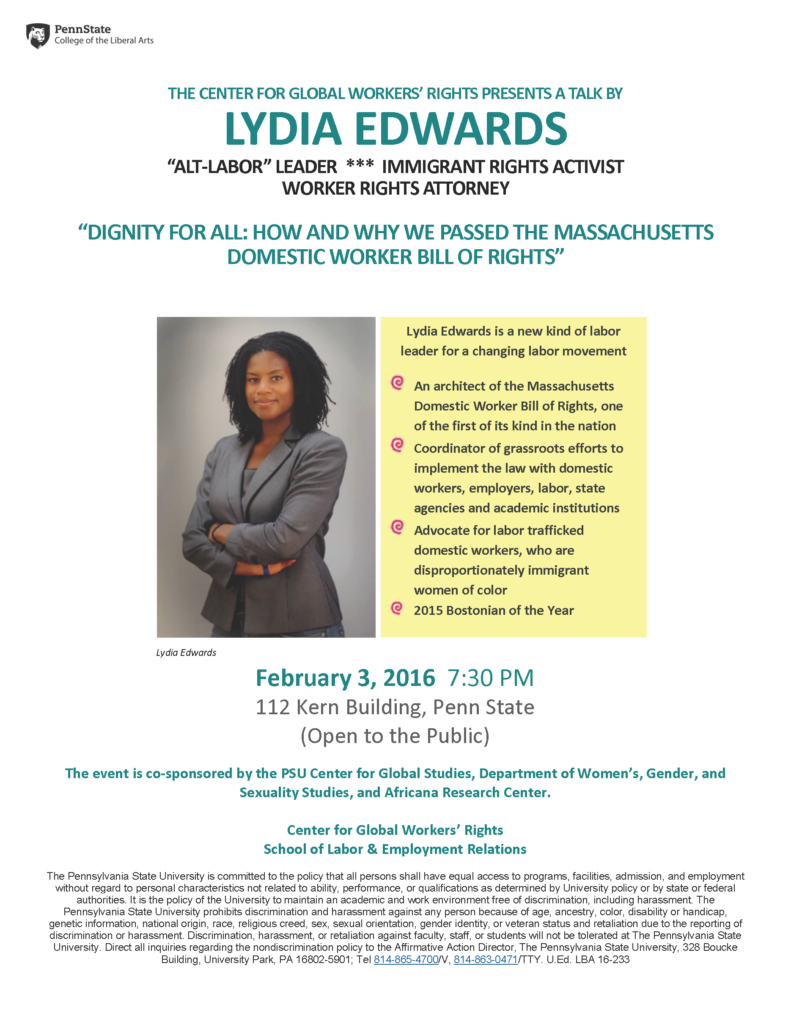 The Future of Care: What We Need for a Changing America
Members of the Center for Global Workers' Right listen with Ai-jen Poo following her talk on February 11, 2015 on "The Future of Care: What we need for a changing America." Ai-jen is the director of the Domestic Workers Alliance and a 2014 MacArthur "Genius Grant" Fellow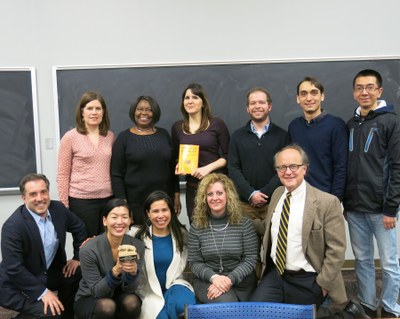 Justin McBride speaks on Los Angeles Modern Day Sweatshops
Justin McBride is the Campaign Director for the CLEAN Carwash Campaign, and works for the AFL-CIO. He was first exposed to unions with the garment workers' union, UNITE, in New York City, while he was pursuing undergraduate studies at Duke University in 1999. Upon graduating, he became a staff organizer, and has been helping workers form unions ever since in a variety of industries, including laundry, warehouse, industrial, janitorial, construction, and now carwash workers. Justin began working on the CLEAN Carwash Campaign in 2008.
The carwash industry has become part of the underground economy of Los Angeles and other cities in California, with many carwashes failing to abide by basic labor and health and safety law. Los Angeles carwashes have been equated to the modern day sweatshop. The (CLEAN) Car Wash campaign is a joint effort between the Community Labor Environmental Action Network (CLEAN), the Carwash Workers Organizing Committee (CWOC) and the United Steelworkers (USW). Begun in 2007, the campaign has brought together a diverse group of immigrants' rights, legal, labor, and community organizations to improve the lives of working families throughout California and across the Los Angeles area.