Professor, Labor and Employment Relations
Center Director, Center for Global Workers' Rights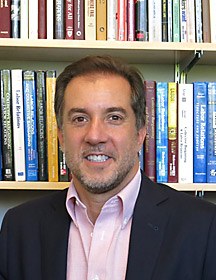 Education
PhD: Cornell University, Government
Research Interests
Workers' rights, apparel global supply chains, corporate social responsibility, international labor solidarity
Professional Bio
Mark Anner is a professor of labor and employment relations and political science. He is also the founding director of the Center for Global Workers' Rights. He holds a Ph.D. in Government from Cornell University and a master's degree in Latin American Studies from Stanford University. Dr. Anner's current research examines how pricing and other sourcing dynamics in global supply chains affect working conditions and workers' rights. And he is also working with labor scholars and activists in Latin America to develop a 'worker-driven' research methodology for global supply chains. He has researched and written on international labor solidarity, labor law reform in Latin America, strikes in Vietnam, and local and transnational labor solidarity in the global apparel industry. His field research has taken him to El Salvador, Honduras, Brazil, Vietnam, Bangladesh, India, Guatemala, and Mexico. Before beginning his academic career, he lived in Latin America for eleven years, working with labor unions and a labor research center.
Awards:
Liberal Arts Researcher Appreciation Award for Tenth Grant at Penn State, 2021.
Susan C. Eaton Outstanding Scholar-Practitioner Award, LERA, 2019.
Advancing a Global Penn State: Outstanding International Research Award, 2019.
Liberal Arts Researcher Appreciation Award for Fifth Grant at Penn State, 2018.
Liberal Arts Researcher Appreciation Award, Six Years External Funding, Penn State, 2017.
James G. Scoville International and Comparative Best Paper Award, LERA, 2013.
The Luis Aparicio Emerging Scholar Prize, ILERA, 2012.
The John T. Dunlop Outstanding Scholar Award, LERA, 2011.
The George W. Atherton Award for Excellence in Teaching, Penn State, 2010.
The Excellence in Honors Teaching Award, SHC, Penn State, 2010.
Recent publications:
Squeezing Workers' Rights in Global Supply Chains: Purchasing Practices in the Bangladesh Garment Export Sector in Comparative Perspective." Review of International Political Economy. 27(2): 320-347. 2020.
"Predatory Purchasing Practices in Global Supply Chains and the Employment Relations Squeeze in the Indian Garment Export Sector." International Labour Review, 158 (4): 705-727. 2019.
"CSR Participation Committees, Wildcat Strikes and the Sourcing Squeeze
in Global Supply Chains." British Journal of Industrial Relations, 56(1): 75-98. 2018.
"Monitoring Workers' Rights:
The Limits of Voluntary Social Compliance Initiatives in Labor Repressive Regimes." Global Policy, 8(3): 56-65. 2017.
"Harmonious Unions and Rebellious Workers: A Study of Wildcat Strikes in Vietnam." Industrial and Labor Relations Review, 69(1): 3-28. 2016. (With Xiangmin Liu.)
"Labor Control Regimes and Worker Resistance in Global Supply Chains." Labor History, 56(3): 292-307. 2015.
"Social Activism and Practice Diffusion: How Activist Tactics Affect Non-Targeted Organizations." Administrative Science Quarterly, 60(2): 300-332. 2015. (With Forrest Briscoe and Abhinav Gupta).
"Towards Joint Liability in Global Supply Chains: Addressing the Root Causes of Labor Violations in International Subcontracting Networks." Comparative Labor Law and Policy Journal 35(1): 1-43. 2013. (With Jennifer Bair and Jeremy Blasi.)
"Corporate Social Responsibility and Freedom of Association Rights: The Precarious Quest for Legitimacy and Control in Global Supply Chains" (Politics & Society, 49(4):606-639). 2012. This article received the James G. Scoville International and Comparative Best Paper Award from the Labor and Employment Relations Association (LERA).
Solidarity Transformed: Labor Responses to Globalization and Crisis in Latin America (Ithaca: Cornell University Press.) 2011.