Employees are the key to any successful organization, whether it be a small business, multinational corporation, government agency, or non-profit group. Human Resources and Employment Relations (HRER) professionals are responsible for recruiting, training, managing, and compensating their organization's employees in a complex and rapidly changing environment. To be effective in this regard, HRER professionals need to continually update their skills and knowledge.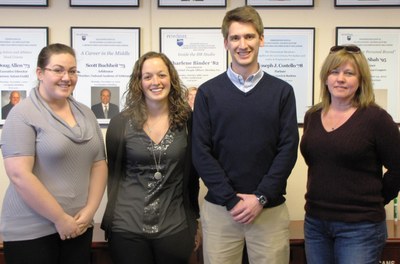 Graduate Certificate Program Overview
The graduate certificate in Human Resources and Employment Relations at Penn State University Park was designed to help HRER practitioners meet the need for on-going education in the field. Classes are taught by members of Penn State's graduate faculty and are held in the afternoon and early evening. These graduate-level courses can be counted toward the HRER Master of Science degree if the student later decides to pursue this.
The graduate certificate in HRER was established to meet the needs of working professionals by:
Providing an opportunity to get back into the classroom and learn about the many challenges facing the Human Resources and Employment Relations field.
Giving working professionals a chance to "try out" graduate study without taking entrance exams, filling out lengthy applications, and committing to a full-time graduate program.
Offering an opportunity to earn an academic credential (Graduate Certificate in HRER) after only three courses (nine credits).
Providing the option of pursuing a Master of Science in HRER upon successful completion of the Certificate program.
Admission to the Certificate Program
Students are required to have an undergraduate degree from a four-year college or university and should submit the following items before completing their first course:
A valid undergraduate transcript as proof of graduation
A completed online application (please submit a copy of this application with your other materials)
A one-page statement of purpose, focusing on educational and professional objectives
A resume
Please send official transcripts to:
HRER Graduate Certificate Program
Attn: Erin Hetzel
506 Keller Building
The Pennsylvania State University
University Park, PA 16802
Applicants must have at least two years of professional experience before entering the program. Students must complete nine credits of graduate-level courses with a grade of B or better in each class while maintaining a 3.0 grade point average. Two courses are required: HRER 504 (Seminar in Employment Relations) and HRER 505 (Seminar in Human Resources). Students choose a third course from a list that includes courses on employment law, diversity in the workplace, organizational behavior, work and family, and special topics. These courses are held at the University Park Campus only.
To register for classes please contact Continuing Education at 814-865-3443. For questions regarding registration and scheduling, please call Erin Hetzel, the Graduate Staff Assistant at 814-867-4167.
PLEASE NOTE: If you do not have a Penn State ID number you must complete the Graduate School non-degree application before registering.
Courses are three hours long, one day a week. They are usually scheduled in the afternoon, Monday through Thursday.
Note: There are only a limited number of seats in each class for part-time students. Early registration is strongly recommended.
Students pay the regular per credit charge for graduate study at Penn State – see the most current tuition schedule.
Students are encouraged to seek financial support from their employers (Some employers provide tuition reimbursement for employees).